Come back several days later please! Ugh, I'm so sick and tired of the rain, makes the house all gloomy and totally doesn't make me want to be motivated in the cleaning department! Lols, well wait a second what am I saying, I'll take any excuse to not be motivated to clean latley. But the rain fits my gloomy mood the past few days. A girl I went to high school with had her 2nd little boy October 31st and I got news this week that on Tuesday, November 11th he passed away. He was diagnosed with
Hirschsprung's Disease
which occurs when some of the nerve cells that are normally present in the intestine do not form properly while a baby is developing during pregnancy. My heart breaks and goes out to her and her family. I know the process I have to go through with miscarriages, I can't even imagine everything she's going through right now. Please say a prayer for the D family.
I was pretty productive yesterday in getting ready for
Mamarazzi's Favorite Things Swap
. I went shopping for all of my goodies Thursday night and spent yesterday afternoon wrapping it all. I hope my partner loves some of the stuff that I love. Here's a picture of all of the goodies.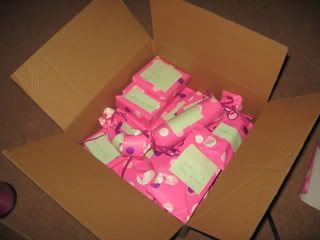 And almost two years ago after Christmas I bought two big wreaths and all of the trimmings to decorate them. The crafting bug has hit me for holiday goodness so called my mom up at work last night and said that when I get off I'd be picking them up to do this weekend. Instead she offered to help so went there when I got off and here are the end results. Of course the picture doesn't really do them justice, but the colors are burgandy and gold and I'm very pleased wih my first time doing a wreath. Here's a picture taken last night when I got home.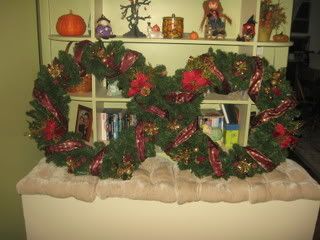 Ok, I must wrap this up so that I can get some cleaning done around here so when the hubs gets home from work this afternoon he won't think I just bummed around the whole day. Happy Saturday everyone!