Woo-hooo, who doesn't love taking the recyling out and finding a package at your doorstep! Makes the chore all that much sweeter. I signed up for
Mamarazzi's Favorite Things Swap
and was paired up with Jaime (
StampinMom
). (For some reason Mr. Linky isn't working, will check back later to add my link)
The Package in all of it's prettiness!
Look at the pretty wrapping paper!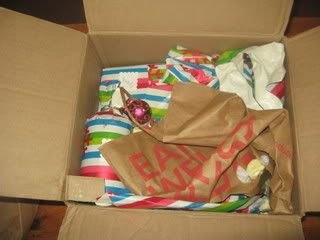 Everything laid out before I dug into to unwrapping the goodies.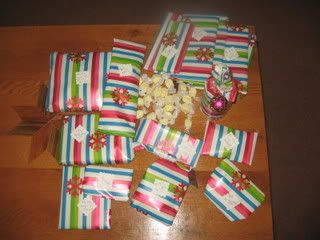 And the Aftermath. :o)
And in case you can't see everything here's the awesome goodies I got, can't wait to use them all. Snowman ornament, favorite coffee, sparkly confetti, lip balm, homemade cards and tags, mascara, tea towel, wooden spoon, margarita - shampoo/shower gel/bubble bath, pink sparkly ornament, taffy, chocolate & caramel (yum!), chai tea, scrappy goodies, Pampered Chef recipe booklet, and Home Companion magazine. For my first blog swap this was a blast. Thank you Jaime!
And two pics of the little one taken the other night.
"Look Mom, it's Daddy!"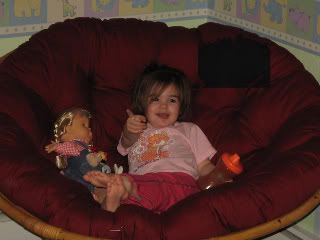 "Baby, thirsty?"
And to top off my week, the printoff of my tickets to see TWILIGHT Friday night! Woo-HOOOOOOOOO!