We've had an exciting two days around here. Yesterday Emma went for her first haircut. I was a little nervous, b/c we have really hit the stage of funky tantrums in this household. And I can never touch her head anymore. But she did amazingly. Sat there like such a big girl. I think her favorite part though was looking at herself in the big mirror.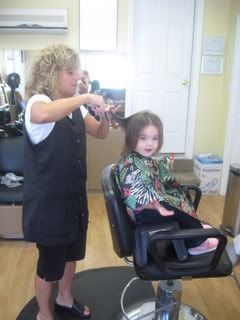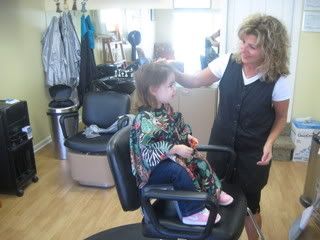 And because she did so well we went to a park on the way. I was able to get these two shots of her. Love the one of her looking straight on...my little girl is getting so big!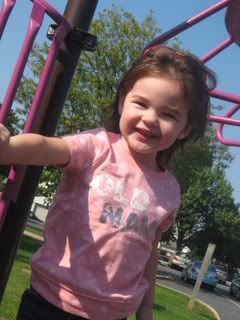 Today we got to meet a
LSB
from our sub-group on BBC. Jenn, Ricky, and little Miss Avery. At first Avery stuck very closer to her mama, but she finally warmed up and her and Emma had so much fun! Here's a few pics:
Throw the ball to me!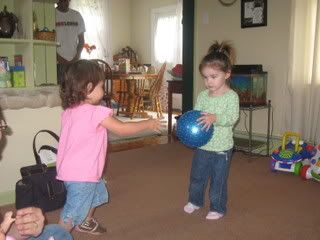 Both of the girls' saying "Cheese".
Avery - "Shoe?" as in please take it off. Emma - Yes I have a foot too!
Girls just wanna have fun. Oh yeah!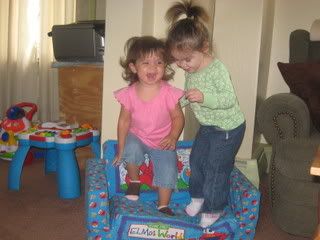 Taking the baby for a stroll...their expressions are priceless.
Hey, check out this duck...you pull the string and it's feet go.
Snack time was yummy!
So, somehow Avery became the "baby" and Emma the "mommy".
Group shot, switching each other's little ones.
In other randomness. I had a pretty strange
occurrence
happen tonight. So, anyone who knows me, knows that I must always have a stock up my iced tea on hand. I had opened my last gallon today. So, headed to the gas station to fill my tank. Got some more iced tea and a
cappuccino
. Anyways, I'm standing in line waiting to check out, and this burly man walks in. He's staring, I sense it and glance at him quickly and then turn my attention else where. I go up to the counter to check out and he's standing behind me and says to the clerk "She has pretty feet". Did I really just hear that? I don't say anything. The clerk doesn't say anything. So the guy behind me says "I don't think he heard me, I said she has pretty feet". I turn around laugh a little bit and say "Um, thanks". And then book it out of there as soon as I got my change. So, apparently my feet are looking good!!!
Lols
.