I've been wanting to write up an entry all week but the time has just flown by. Let's start with last Saturday the 20th. We all headed over to my aunt's house for a surprise 50th celebration around their campfire. It was fun, she was surprised, and good times with family!
A beautiful sunset on the way to my Aunt's house.
She's my "Cheese-o-roni"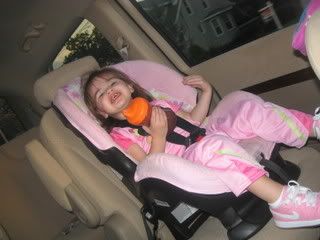 Family & Friends gathering around.
Laying out the yummy food!
Here come's Uncle Joe and Mom with cake & flowers.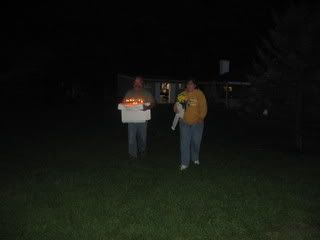 There were a lot of candles to blow out on that cake!
Sister's forever.
Gathering around the fire pit.
"Again" Pappy.
The flag pole lit up.
Cheese is so yummy!
On Sunday was my online crop. I did get 4 layout's done and taught a class on how to make a gift bag. Which I posted pictures last week. It was fun.
Picture taken "Pre" croppiness.
Challenge: Layout with the following colors: Green, Pink, & Orange
Challenge: I love _______
Challenge: Who am I?
Challenge: Use Sketch A or B, I used B.
"Post" Croppiness
As always it feels good to get the creative juices flowing. And I used some new techniques, actually scrapped about myself, and used some color choices I normally wouldn't have selected.
The rest of this week has been getting ready for Emma's 2nd Birthday party this Sunday. We have a crazy weekend ahead. Apple Festival, my cousin's wedding, last minute party errands, and the birthday party.
Emma got two presents today. One from her birthday buddy on my LSB group. She got a my little pony and a shirt. And then Tonya from my work got her a stuffed Eeyore, socks, books, bubbles, sesame street hair clips, Halloween picture frame, and a duck. She's loving it all. I'm so excited to see her open presents this year. Since at Christmas time she was horribly sick and just not into it.
It's been a rough week personally for me. So much is swirling around my head. I just want to thank my LSM's and Deann from the very depths of my heart for listening and being here for me. I really don't know what I'd do without you amazing ladies!!! Love each of you!!!
Speaking of amazing ladies...check out this awesome name siggy Lisa made me for my blog. LOVE IT! And with that, peace out!!!