Well, two years ago, today we were in the hospital and I was being started on Pitocin to get the labor started with my beautiful bundle of joy Emma Rose. I can't believe that 1:07AM tomorrow she'll be 2 years old!
We had a great but rainy weekend.
Saturday morning we trekked out to the Apple Festival. It started raining even harder so we quickly perused the isle's quickly. Emma did play two games and won some prizes, she got a crown & wand, and we of course had to get some kettle corn.
Later in the day we headed out to Millersburg to my cousin's wedding. It was beautifully decorated, the food was oh so very scrumptious, and the wedding couple looked blissfully happy. Congratulations to Mr & Mrs Christopher Lukunich! (Hoping the settlement of your new house goes very smoothly today)
Sunday was Emma's party day. We spent the morning having a yummy breakfast of waffles, getting ready, cooking food, decorating, and then party, party time after nap. All 6 sets of her grand & great - grand parents came, and both of her aunt's and their boyfriends came out to celebrate. The food was yummy. She got lots of great stuff from everyone. The hubs and me were quite exhausted by the time we got done with bedtime for Emma, cleaned up the decorations, did dishes, and re-organized and put away all of her new goodies. Now for a big overload of pictures.
Yummy waffles for breakfast.
Helping me make mac 'n' cheese.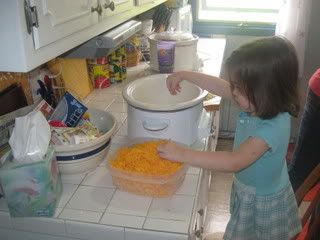 Decorations.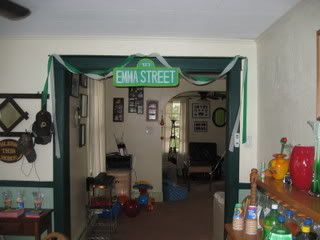 The Birthday Girl!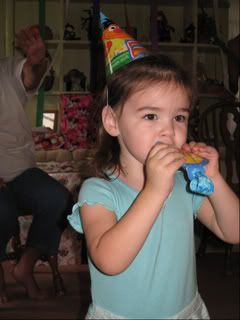 The hubs and me waiting for guests to arrive.
Opening presents.
Singing Happy Birthday.
Blowing out the candle.
The oh so very yummy cake!!!
Playing with some of her toys.