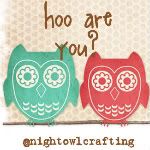 1. What is the most physically painful thing that has ever happened to you?
- A kidney stone I had earlier this year, OMG - there's nothing to describe that pain.
2. What would you name your next child or if you don't have any your first child?
- As we already have two girls we keep tossing around boy names hoping and praying our 3rd will be a boy when we do get pregnant again, so it's a toss between Finn or Owen.
3. If you could add one feature to your car, what would you choose?
- A button in the van and on the fob to open the rear hatch, it really would come in handy in some situations.
4. If you named your house (or car or computer) what would you name it?
- Yeah, my van's name is Daisy.
5. What is your dream occupation?
- To start a business with the Hubs and for us to succeed! (This is actually in the works now!)