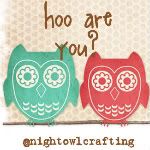 1. How tall are you? How tall do you WISH you were?
- I'm 5'8" and I'm happy with my height.
2. Do you have a birthmark? Where?
3. What is your biggest money waster?
- Hmmm - toughie, but I think it'd have to be when I buy too much for the girls', we have such big families they get spoiled already, it's hard for me to not spoil them too.
4. What song are you tired of?
- Sugarland "Stuck Like Glue"
5.
What stresses you out most?
- When the Hubs is laid off which results in me stressing about money.