I decided to do a re-cap of the things I was loving in February!
First up, here's a screen shot of my iPhone's current homescreen. Do you know how to take a screenshot of your iPhone? If not, here's a new tip for you then. You push the power and home button at the same time. I swear I use it too much.
My new game obsession is Scramble with Friends - it's like boggle, I'm totally addicted. If you play look me up - Kat7205!
Another thing I'm loving is Weight Watcher's. I'm finishing up my 2nd week on it. Doing great so far and love that they have an app - it's the one that says WW Mobile, because it's so much easier for me to track my points on there, instead of remembering and doing it on the computer. Are you doing WW also? Let's become friends on their - same username as above Kat7205.
See that gorgeous background? Love me some fun yellow to welcome springtime and of course you can't go wrong with chevron! Go over to
Southern Stumble
to check out the great free iPhone backgrounds she has available. They are all gorgeous!
Blog I'm loving -
Karen at Home
. She's due any day now with her 2nd baby a little boy. Her oldest daughter is a month older than my A. I've been a follower of hers for almost 2 years. She shares such great tips for the blogging and the house. She's also a Thirty-One Gifts consultant. Check her out here if you have a moment: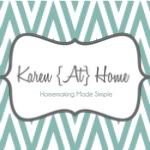 Also, have you heard that they are getting rid of Google Friend Connect? So sad! There is now a new way to follow - it's called Linky Followers - it's off to the right hand side, below the old GFC.
What things were you loving in February?