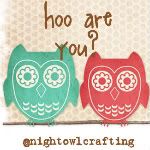 Here are this week's question?
1. List 3 words that remind you of fa
ll.
- pumpkins, leaves, brisk
2.
Do you wear jewelry often?
- wedding & engagement rings, promise ring on the other hand or my oldest birthstone, anniversary dragonfly necklace
3. Do you like your toe nails painted or natural?
- Painted, I get monthly pedicures.
4.

Do you ever wear a hat

?
-Never, although the Hubs wishes I would more often
5.
Do you have someone that you talk to everyday on the phone?
- Yes, my mom.